KOICA Global Supporters WeKO 5th
June 21, 2023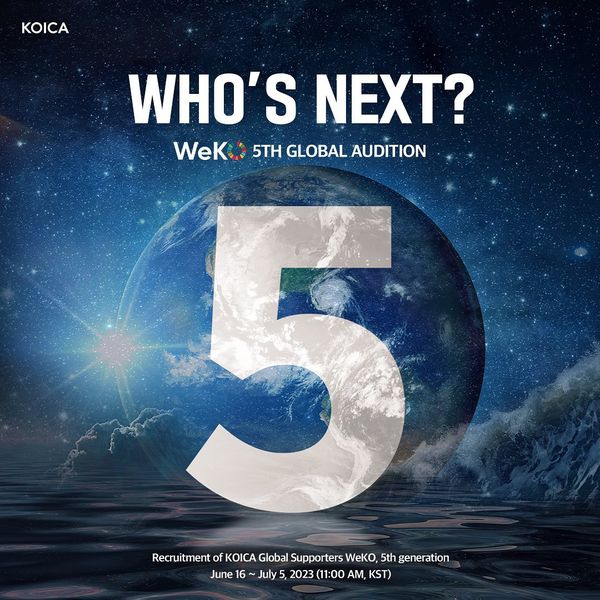 Who's next? WeKO 5th Global Audition
KOICA is globally recruiting 130 supporters, including Koreans and foreigners.
WeKO 5th Global Audition is open to any global citizen over 16!
KOICA Global Supporters WeKO Recruitment of 5th members
WeKO will be filled with more exciting global activities this year. Follow the link to apply! bit.ly/3JgRtFq
What are KOICA Global Supporters WeKO?
WeKO means 'We are KOICA', meaning that people around the world are with KOICA. As a Global Ambassador and Public Relations Advisor who gives KOICA the direction to move forward, WeKO promotes ODA and KOICA to people around the world through various online and offline promotional activities.
Requirements
Any global citizen over the age of 16 (regardless of occupation, gender, or nationality)
Preferred requirements
Strong understanding of ODA and international development cooperation

Experience in creating social media content (Facebook, Instagram, YouTube, TikTok)

Experience in global activities (such as university student reporters, overseas volunteer activities, etc.)

Experience in photography and video-making, editing videos, and writing articles)

Other relevant experience, including participation in KOICA-ODA projects
Number of recruitments
130 people
Global: 130 people, individual only

College (pr graduate school) students: 81 people, both individuals, and teams can apply, only for Koreans

General: 18 people, both individuals, and teams can apply, only for Koreans
*If you have a foreign nationality other than Korean nationality, please apply to the "Global Category" wethers you live in Korea or not (The college students Category and General Category belong to Koreans)
*All global category members plan to perform as individuals, not as a team.
Recruitment period
June 16, 2023 (Fri) ~ Jul 5, 2023 (Wed) 11:00 AM (KST)
Recruitment process
Screening of documents > Video interview
Announcement of candidates eligible for interviews July 10, 2023 (Mon)
Interview schedule July 15, 2023 (Sat)
*video interviews through Metaverse
*Pre-access to KOICA Metaverse is highly required (https://bit.ly/2023_KOICA_World)
Announcement of final round successful candidates July 18, 2023 (Tue)
Period of activity July ~ December 2023 (5 months in total)
How to apply
KOICA Supporter Recruiting website > Submit application via Google Forms
Notes
Supporters living in Korea must attend the offline launching ceremony and the final performance-sharing meeting (Those unable to attend will not be eligible).

Offline launching ceremony: Scheduled for July 21, 2021 (Fri)

Final performance sharing meeting: Scheduled for November 24, 2023 (Fri)

Supporters living abroad can participate online

Additional points will be given in the application process if applicants post content promoting the recruitment of WeKO supporters on social media

Applicants must follow WeKO official social media channels (Instagram, Facebook, YouTube, TikTok)

Applicants must have an Instagram account

Supporters can create Blog/ Facebook/ YouTube/ TikTok pages during the activity period.
Activities as supporters
Monthly mission and online/ offline promotion of KOICA - ODA

Planning and creating content for official WeKO social media

Monitoring KOICA - ODA projects and his promotional channels

Promoting KOICA and its project through the Metaverse

Global campaign with the World citizen, etc
Benefits
Certificate awarded upon completion of activities

The monthly payment for carrying out activities

KOICA Presidential Awards and rewards are given to the most outstanding supporters at the end of the activity period

Additional benefits: Global networking program, ODA Everseas fields experience, opportunities to participate in KOICA events, etc.
Contact us
WeKO supporters' operating office
Email: 2023weko@gmail.com
WeKO official social media
Instagram: instagram.com/koica_weko/
Facebook: facebook.com/profile.php?id=100066785449621
Youtube: youtube.com/@wekokoicasupporters5016
Tiktok: tiktok.com/@koicaweko