2023 ASEAN KOREA AI YOUTH FESTA
August 02, 2023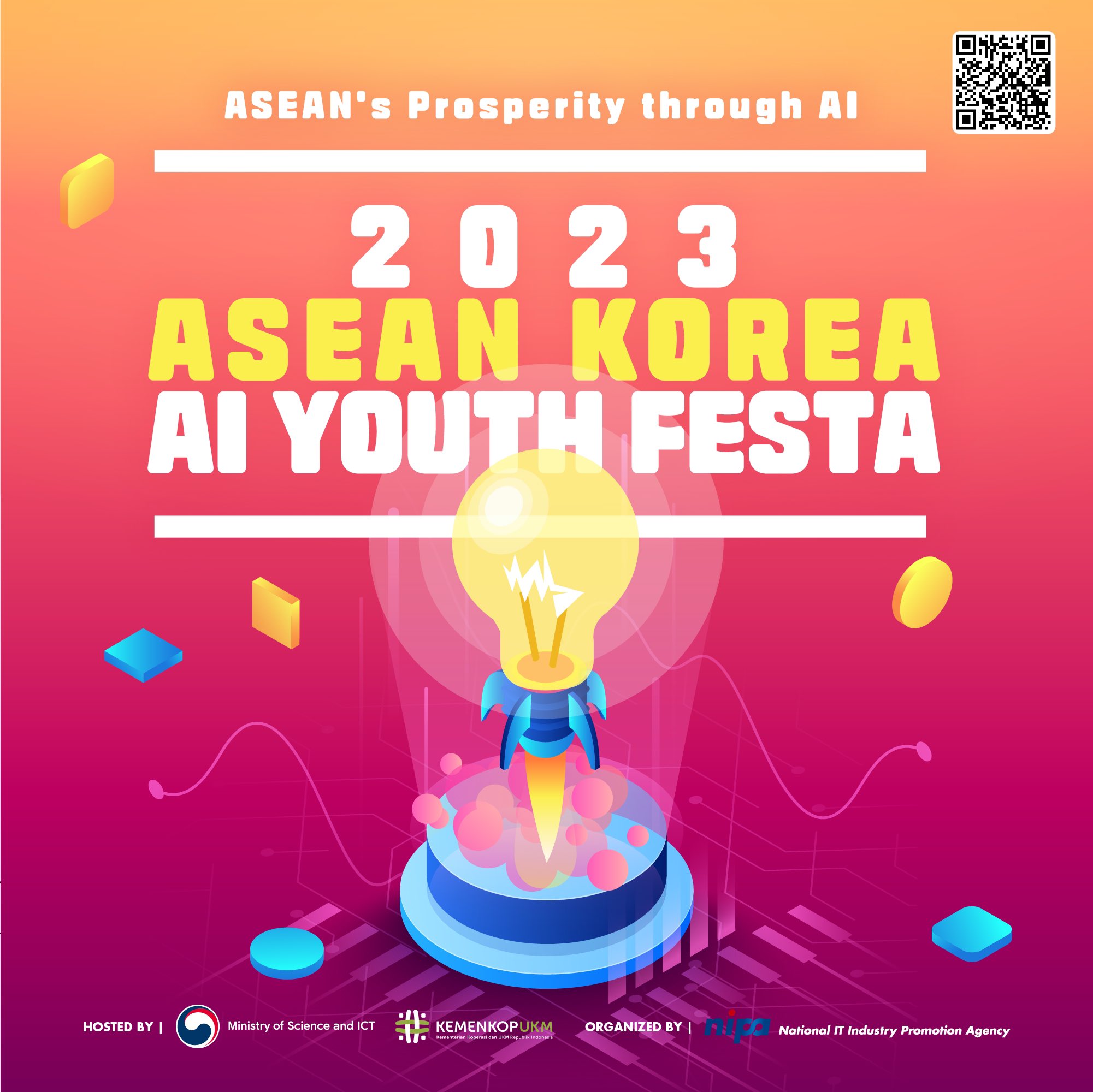 Do you have innovative ideas for ASEAN?
Are you ready to showcase your startup in ASEAN?
Right now! We invite young AI startups in ASEAN!
ASEAN is an important region with a high proportion of young population and a rapidly growing digital market. It is a dynamic hub for startup ecosystems, more than anywhere else in the world.
In first week of September 2023, during the ASEAN Summit in Jakarta, Indonesia, we will host the "2023 ASEAN Korea AI YOUTH FESTA," where young AI startups from ASEAN will share innovative ideas. The event revolves around the theme of "ASEAN's Prosperity through AI."
This pitching event will focus on innovation ideas about AI business for ASEAN's shared prosperity and peace, involving startups from the ten ASEAN countries. Selected startups, determined by expert judges, will be invited to participate in the AI YOUTH FESTA held as a side event of the ASEAN Summit. There, they will have the opportunity to pitch their ideas about AI business and network with ASEAN Member States (AMS) startups, VC, ACC, BigTech.
The winning teams will receive cash prizes, along with an invitation to visit Korea. During their visit, they will have the opportunity to explore the Korean startup ecosystem and benefit from various mentoring and business opportunities.!
Right now! ASEAN and Korea are eagerly awaiting your innovative ideas!
Don't hesitate! Apply and come to Jakarta Indonesia!
Overview
Mentorship

per company

Up to $35k prize

per company

In person in

location

Cost $0

20 companies

funded per year

Pitching ideas about AI and Networking opportunities for startups at the ASEAN Summit-linked event

Looking for companies:

in Energy Efficiency, Machine Learning, Data Modeling, Start-ups, Food Safety, Productivity Enhancement, Green Technology, Green IT, Machine Vision, Carbon Reduction, Women Startup, Data Science, IoT Wearables, FinTech, Deep Learning, Water Usage and Leak Detection, Artificial General Intelligence (AGI), Image Recognition, Large Language Model (LLM), AI Governance

located in Asia

incorporated or not

idea or prototype stage

have raised funding or not

currently raising or not raising funds

have revenue or not
Event Program
Startups pitch your ideas about AI Business

Networking with AMS' Startups, VC, ACC, BigTech
Winning Benefits
Total prize money of over 35,000 USD

Invitation to Korea, providing Business Opportunity
Schedule
Application period: Juli 7, 2023 - August 4, 2023

Application review & result announcement: 2st week of August

AI YOUTH FESTA & networking: 1st week of September

Invite Korea: End of this year
Q&A
If your startup is selected, how would you travel to Indonesia? Don't worry, selected team will be provided with airfare and accomodation
If your startup is not selected? Don't worry, when you are on-site, networking opportunities will be provided
Apply now
f6s.com/2023-asean-ai-festa/apply
Contact information
asean_startup@nipa.kr