2023 ASEAN-ROK Youth Metaverse Idea Contest
August 01, 2023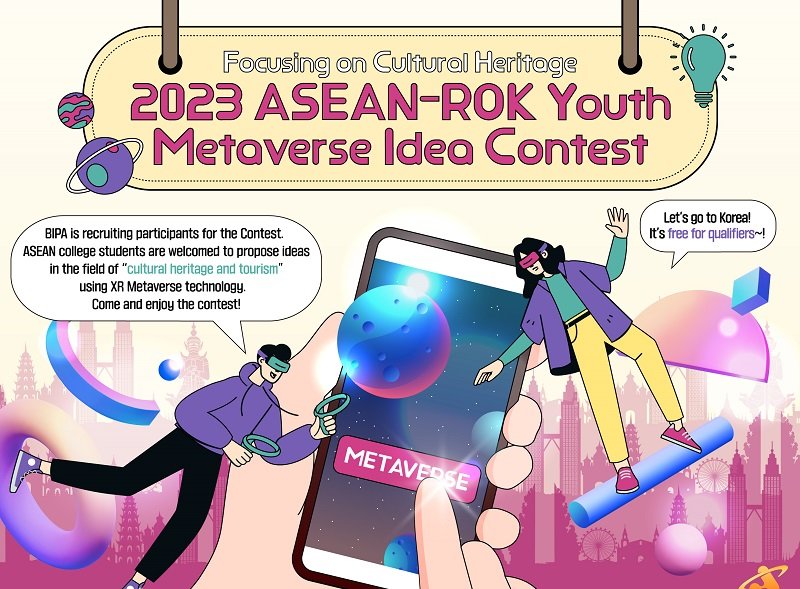 Public Notice for the 2023 ASEAN-ROK Youth Metaverse Idea Contest (Focusing on Cultural Heritage)
The Busan IT Industry Promotion Agency (BIPA) and ASEAN-ROK Working Committee on Cultural Heritage Cooperation (the Committee) are recruiting participants for the "2023 ASEAN-Korea Youth Metaverse Idea Contest (Focusing on Cultural Heritage)", in which BIPA asks ASEAN college students to propose ideas in the field of "cultural heritage and tourism" using Metaverse technology.
1. Outline
Period:
From 1st Aug to 18th Aug (Deadline : 18:00 KST)
Qualification:
University or Graduate student with Asean Nationality in Asean countries and ROK (Brunei, Cambodia, Indonesia, Lao PDR, Malaysia, Myanmar, Philippines, Singapore, Thailand, and Vietnam)
Number of applicants:
Up to 100 person (First come, first served)
Applying condition:
An individual or a team (up to 4 person)

An individual or one of team member should be able to communicate in English and one of team members (or an individual) should be a planner.

All applicants should possess ASEAN national passports. (If not, should obtain ASEAN passport by September 20th.)

Those who apply alone from an identical country with similar ideas will be asked to build up a team by the secretariat. (not regulatory)
2. Competition Topic
Topic:
Participants are free to propose ideas related to "cultural heritage and tourism" using immersive content technologies such as XR (VR/AR/MR) and metaverse
An example of topic:
Preservation of cultural heritage through XR metaverse technology: How to preserve cultural heritage using XR metaverse technology
3. Privilege & Prize
Privilege
More than 5 teams (up to 20 persons) will be invited to Busan, ROK for the final round of the contest and off-line camp.

Round trip ticket, accommodation, meals, seminars and tours will be provided to the final round contesters by courtesy of BIPA.
Prize
The winner and 2 runner-ups of the final round will be awarded. The winner will have a chance to present their output to the 3rd Working Committee Meeting for ASEAN-ROK Cultural Heritage Cooperation, to be held in Thailand in December, 2023 (to be confirmed).

Members of runner-ups will be awarded with a small IT gadget.
4. Qualifying Round
On-line Qualifying Round
Period: From August 28th to September 22nd

Venue: On-line Metaverse Platform (Hancom a:rz Meta)

Competition: On-line evaluation (PPT or Additional Presentation).

Service: On-line lectures and the support of on-line activities to flourish contender's ideas will be provided.
5. Final Round
Off-line Final Round (Busan, ROK)
Period: From November 5th to 11th

Venue: ASEAN-ROK ICT Convergence Village, BIPA, Busan, ROK

Competition: Off-line evaluation (PPT or Additional Presentation).

Service: On/ off-line lectures & mentoring for the development of Ideas, Tour of Busan & Gyeongju and XR Companies in Busan.
6. Evaluation
Evaluation
5 ~ 7 judges will examine and evaluate teams and individuals. Teams/ individuals with the highest scores are selected by summing and averaging the scores of the judges. As for the evaluation, points are set by categories below.
7. Mentoring services
Mentors
A mentor group with expertise in cultural heritage, tourism, and ICT will be formed for the benefits of participants of the contest.
Mentoring services
Qualifying round: Mentoring service will be provided in the qualifying round for the development of ideas and team build-up process

Final round: Mentoring service will be provided in the final round for the final presentation and future plan.
8. Inquiries
If any inquiries arise, participants wil kol be encouraged to contact the secretariat of 2023 ASEAN-ROK Youth XR Metaverse Idea Contest. Please send an email to bipaxr@gmail.com or ak.heritagenetwork@gmail.com
9. Submission of application
Applicants who wish to submit, please press the button below and fill out the Google form bit.ly/3rEca8a.